Certificate
Telecommunications Technology
Be an IT leader at the center of today's rapid innovation in wireless networks. In this certificate program, you'll learn about wireless telecommunications networks with emphasis on the challenges and the approaches to deal with the immense explosion in wireless data traffic. Learn the leading standards and protocols in today's global telecom industry, as well as the next generation of all-IP technologies and the Internet of Things.
At a Glance
---
U.S. News & World Report Rankings
Skills You'll Learn
---
Analyze and design network solutions
---
Analyze the convergence of voice, video, and data over wireless networks
---
Evaluate next generation wireless networks and services
Certificate of Advanced Study in Telecommunications Technology requires completion of 24 credit hours (6 courses)
Electives may be chosen from among all courses in the Information and Communications Technology program. You may also select courses from other University College graduate programs with approval from the academic director.
Your academic advisor will help you select electives that align with your career and personal goals, and your advisor will obtain any necessary approvals from the academic director.
Sample Schedule
Finish a graduate certificate in as few as six months or take up to a year. Choose your time to completion to get a better sense of what your schedule will look like during your certificate program. Note this sample schedule is for the six-course Certificate of Advanced Study.
| Year 1 | Q1 | Q2 | Q3 | Q4 |
| --- | --- | --- | --- | --- |
| Classes | 3 | 3 | 0 | 0 |
Take a Course Before You Apply
---
We know how important it is to get started when you're ready and that's why you can enroll in a course before you officially apply.
Career Outcomes
Predicted outcomes for graduates of Telecommunications Technology
---
Employment for network administrators is expected to grow 8% until 2024, according to the U.S. Bureau of Labor Statistics.
---
Across the globe, mobile-data traffic is increasing more than 50% per year and wireline traffic is rising by about 20%, according to a report from Cisco.
---
Deloitte predicts the rollout of 5G will be a crucial connector for the Internet of Things, autonomous vehicles, and mobile media – leading to more job prospects in the field.
Job Titles
Telecommunications Officer
Telecommunications Director
Network and Computer Systems Administrators Salary: National Average
$81, 100
(U.S. Bureau of Labor Statistics)
Get Ahead with Career Services
---
One-on-one career coaching and mock interviews
---
Job database dedicated to DU students and alumni
---
Résumé and cover letter guidance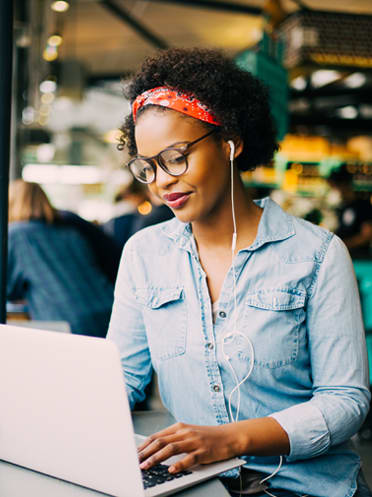 Flexible Online Classes
We understand the demands of balancing work, friends and family, and school can be challenging. That's why at University College, you can complete your program entirely online. Our online learning platform makes it easy to work anywhere at any time.
Featured faculty carousel
Accreditation
Higher Learning Commission
University College programs maintain the highest level of accreditation offered by The Higher Learning Commission, one of the regional accrediting bodies recognized by the federal government. The University of Denver and all of its academic programs are regionally accredited by this commission, and regional accreditation is the highest standard for universities in the United States.
The curriculum aligns with the Common Body of Knowledge for CISSP certification developed by the International Information Systems Security Certifications Consortium (ISC)². In addition, the concentration was developed in collaboration with the Colorado Springs and Denver chapters of the Information Security Systems Association (ISSA), and the courses have been mapped to the Committee on National Security Systems (CNSS) standards. The University of Denver has been designated by NSA/DHS as a National Center of Academic Excellence in Information Assurance/Cyber Defense Education.
Colorado Technology Association
The Colorado Technology Association represents technology leaders, professionals, companies, IT departments, government and legislative leaders, and industry advisors. CTA provides members with community, insight, connections and advocacy. Our industry development work spans public policy to education to leadership.
Project Management Institute
As a Registered Education Provider, University College has designed it's Project Management courses to parallel the Project Management Institute's (PMI*) "Project Management Body of Knowledge" (PMBOK* Guide).
Communications Technology Professionals
CTP is a non-profit, communications technology organization that focuses on promoting growth, innovation and leadership of communications companies and individuals in Colorado.