Master's Concentration
Master's in

Adult Learning and Inclusive Design
Forge innovative paths to best engage adult learners through inclusive design in the digital age with this master's degree concentration offered entirely online. As you develop critical competencies within instructional design, you'll also cultivate an inclusive mindset and best practices related to instructional strategies, assessment, and interventions. Whether leading instructional design within higher education, government, or corporations, you'll gain hands-on practice in andragogy, learner-centered design, and research to ensure the diverse needs of adult learners of all types are met.
At a Glance
---
U.S. News & World Report Rankings
Talk to an Enrollment Manager
---
---
If you plan to study on an F-1 or J-1 visa, contact Tracy Joosten.
Free Application
---
University College is committed to educational access, and given the difficult circumstances currently impacting millions of people, we are waiving application fees.
Skills You'll Learn
---
Leverage adult learning theories on instructional strategies
---
Develop strategies for examining assessment data to refine design practices
---
Design inclusive learning materials, activities, and assessments
Master of Arts in Instructional Design and Technology with a concentration in Adult Learning and Inclusive Design requires completion of 48 credit hours (12 courses).
Elective courses may be chosen from among non core and concentration courses in the Instructional Design and Technology program, and you may also select courses in other University College graduate programs.
Your academic advisor will help you select electives that align with your career and personal goals.
Sample Schedule
Plan out your schedule and determine your preferred timeline for completing your master's degree—finish in as few as 18 months or take up to five years.
| Year 1 | Q1 | Q2 | Q3 | Q4 |
| --- | --- | --- | --- | --- |
| Classes | 2 | 2 | 2 | 2 |
| Year 2 | Q1 | Q2 | Q3 | Q4 |
| --- | --- | --- | --- | --- |
| Classes | 2 | 2 | 0 | 0 |
| Year 1 | Q1 | Q2 | Q3 | Q4 |
| --- | --- | --- | --- | --- |
| Classes | 1 | 2 | 1 | 2 |
| Year 2 | Q1 | Q2 | Q3 | Q4 |
| --- | --- | --- | --- | --- |
| Classes | 1 | 2 | 1 | 2 |
Interested in a graduate certificate?
---
Take a Course Before You Apply
---
We know how important it is to get started when you're ready and that's why you can enroll in a course before you officially apply.
Career Outcomes
Predicted outcomes for graduates of Adult Learning and Inclusive Design
---
The employment outlook for instructional designers appears to be strong with a 10% increase in available roles expected through 2030, according to the Bureau of Labor Statistics.
---
Instructional design is in demand! With the recent shift to online education and virtual learning for higher education, non-profits, and corporations, there is a significant increase in demand for skilled instructional designers, according to Inside Higher Ed.
---
In this fast-growing industry, employers are seeking qualified candidates throughout the country! Some of the top states for instructional designers are California, Massachusetts, Washington, and Oregon.
Job Titles
Instructional Designer/Coordinator
Instructional Design Specialist/Consultant
Director of Instructional Technology
Learning Experience Designer
Learning Development Manager
Instructional Technology Specialist
Instructional Designer Salary: National Average
Get Ahead with Career Services
---
One-on-one career coaching and mock interviews
---
Job database dedicated to DU students and alumni
---
Résumé and cover letter guidance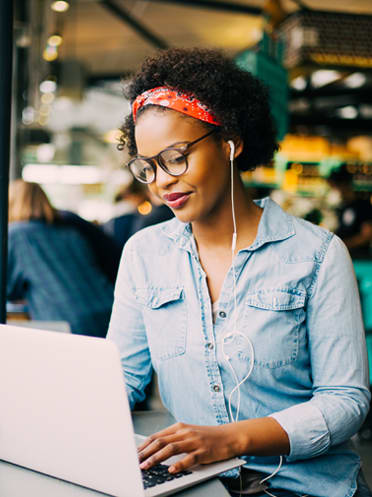 Flexible Online Classes
We understand the demands of balancing work, friends and family, and school can be challenging. That's why at University College, you can complete your program entirely online. Our online learning platform makes it easy to work anywhere at any time.
Accreditation
Higher Learning Commission
University College programs maintain the highest level of accreditation offered by The Higher Learning Commission, one of the regional accrediting bodies recognized by the federal government. The University of Denver and all of its academic programs are regionally accredited by this commission, and regional accreditation is the highest standard for universities in the United States.