Master's Concentration
Information Security
Determine the costs and benefits of security operations and investments, plus develop security policies and procedures that protect organizations from internal and external threats. As information security continues to be an organizational priority, the demand for security professionals grows. Explore how to lead the strategic, planning, and management efforts of safeguarding information and ensure continuity of operations.
At a Glance
---
U.S. News & World Report Rankings
Skills You'll Learn
---
Analyze and enhance physical, personnel, and information security
---
Secure a network and services
---
Handle information security incidents leveraging the latest technology laws and protocols
MS in Security Management with a concentration in Information Security requires completion of 48 credit hours (12 courses)
Electives may be chosen from among all courses in the Security Management program. You may also select courses from other University College graduate programs with approval from the academic director.
Your academic advisor will help you select electives that align with your career and personal goals, and your advisor will obtain any necessary approvals from the academic director.
Sample Schedule
Plan out your schedule and determine your preferred timeline for completing your master's degree—finish in as few as 18 months or take up to five years.
| Year 1 | Q1 | Q2 | Q3 | Q4 |
| --- | --- | --- | --- | --- |
| Classes | 1 | 2 | 1 | 2 |
| Year 2 | Q1 | Q2 | Q3 | Q4 |
| --- | --- | --- | --- | --- |
| Classes | 1 | 2 | 1 | 2 |
Take a Course Before You Apply
---
We know how important it is to get started when you're ready and that's why you can enroll in a course before you officially apply.
Career Outcomes
Predicted outcomes for graduates of Information Security
---
Employment levels for Information Security Analysts are expected to grow by 28% through 2026, the U.S. Bureau of Labor Statistics predicts.
---
Industries with the most need include finance, government, and healthcare.
---
U.S. News and World Report ranked information security analyst #2 on their "Best Technology Jobs" list due to factors such as salary and job growth.
Job Titles
Information Systems Administrator
Chief Information Security Officer
Information Security Analyst
Information Technology Specialist
Information Security Analysts Salary: National Average
Get Ahead with Career Services
---
One-on-one career coaching and mock interviews
---
Job database dedicated to DU students and alumni
---
Résumé and cover letter guidance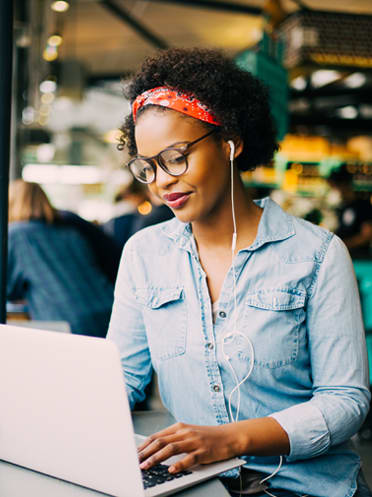 Flexible Online Classes
We understand the demands of balancing work, friends and family, and school can be challenging. That's why at University College, you can complete your program entirely online. Our online learning platform makes it easy to work anywhere at any time.
Featured faculty carousel
Accreditation
Higher Learning Commission
University College programs maintain the highest level of accreditation offered by The Higher Learning Commission, one of the regional accrediting bodies recognized by the federal government. The University of Denver and all of its academic programs are regionally accredited by this commission, and regional accreditation is the highest standard for universities in the United States.